Our Campus
Our campus is one of our most precious teaching tools! Since our inception in 1980, our nature-based school curriculum is finely tuned and highly effective in teaching young children about themselves and the larger world in which they live and grow. While the concept of nature-based early childhood curricula is fairly new to the field, highlighting nature in our teaching is part of our school's DNA!
From our Welcome Walk to the Back Field, our cozy yet spacious four acre campus blends into the natural beauty of surrounding Nickerson State Park where children and teachers learn and play together inside and outside. Two comfortable cape-style buildings, the Schoolhouse and the Saltbox, overlook wooded grounds with age appropriate playgrounds attached to each classroom. We embrace every season on Cape Cod by learning and growing outside the classroom as often as we are able. Our students love to hike in the park in the fall, sled on our hills in the winter, swim in our pool in the summer, and play on our numerous custom-made wooden play structures all year round!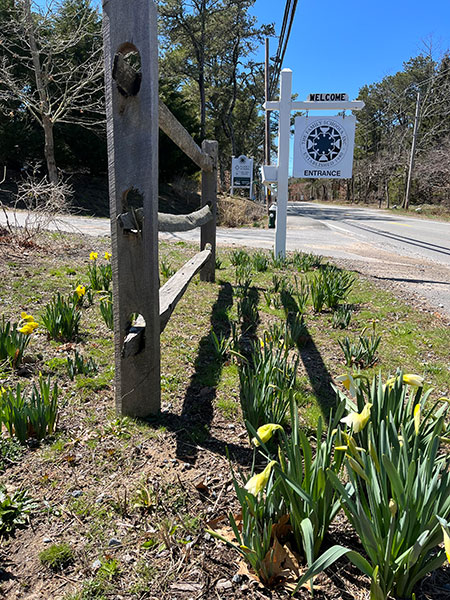 Our campus features:
Two school buildings
Six age-appropriate playgrounds for young children
Two ball fields
An archery range
A basketball court
A pavilion and three outdoor stages
Designated climbing areas with a rock wall
Two yurts
A winterized lodge dedicated to music
And in the summer months:
A renovated outdoor five-lane swimming pool with special shallow water teaching area for our youngest swimmers and an adjacent bathhouse
Two open-air gazebos
20 tents for use by Brewster Day Camp
Like what you see?
Enroll Now!
LEARN ABOUT OUR ENROLLMENT PROCESS & WHAT MAKES FAMILY SCHOOL + SALT BOX SCHOOL SPECIAL!